In our sewing room, we manufacture everything that can be made of textiles for events and public buildings, from simple curtains to the most complicated 3D decorations and large curtains.
The most traditional workshop in the Tüchler house has a wide range of services that goes far beyond the normal curtain. Here you will find an overview of products that are made in our sewing studio.
The TÜCHLER sewing shop is much more than "just" a sewing workshop". Here we use fabrics to produce technically sophisticated curtains, decorations and large curtains that go far beyond the classic curtain. In addition to the most intricate 3D decorations, acoustic hangings and large curtains such as main curtains and partition curtains we manufacture as well as all curtains for public buildings such as schools, hospitals, retirement homes, nursing homes. What the fabrics for events and public buildings have in common is that they must always comply with fire protection classes and, in addition to our own fabric collection, TÜCHLER has access to suitable materials from well-known manufacturers of contract textiles. Our textile know-how enables us not only to have special productions developed and manufactured in our sewing studio, but also to have special productions of fabrics developed and manufactured ourselves.
Stage notices + theatre curtains
Stage notices, i.e. all curtains in theatre stages from the horizon, closing curtains, alley scarves, soffits to the sound decker are made in our sewing studio for the largest and smallest stages in the world.
Home curtains + decorative curtains
Home curtains and decorative curtains are the curtains that the audience consciously sees. They also have a decisive influence on the ambience of the entire theatre or opera house. Our curtain sewing department has decades of experience in the production of these impressive large curtains.
Acoustic curtains + sound curtains
Many venues have a problem with too long reverberation times. Reverberant surfaces such as glass facades, walls, ceilings and floors lead to "noisy" rooms in which you can often no longer understand your own word as soon as several people are in the room.
However, acousticians also deliberately design rooms, such as those in concert halls, which - depending on which application is required - should have different acoustic properties. In both cases, acoustic curtains from TÜCHLER are used.
Blackout curtains + special blackouts
no matter what presentation, show or even just video projection: they want to keep control of the ambient light. Disturbing daylight or possibly direct sunlight would destroy their projection or stage effects. We manufacture everything from simple blackout curtains for school classes and seminar rooms to curtains in front of glass facades in event halls to blackouts and areas of thousands of square meters, e.g. in large tents in which exhibitions are to take place in the absence of sunlight.
Event decoration + stage design
the range of services offered by our sewing room goes far beyond the production of curtains. This is particularly evident when special decorations are required for events, trade fairs or stage sets. As a rule, these very complicated – even three-dimensional – shapes are prefabricated in our workshop and assembled and made ready for use by our specialists on site.
Cloud curtains + Raffcurtains
Raffcurtains are curtains that are raised vertically by means of a raffle mechanism. Raffcurtains can be made smooth, i.e. without creases or with the addition of pleats. The latter are called cloud curtains and are referred to in English as "Austrian - curtain". So how could it be otherwise than that these curtains are a special specialty of our sewing studio.
Wall covering + ceiling covering
in studios, cinemas and other event spaces, the walls are often covered with fabric for acoustic reasons. Here, too, the TÜCHLER sewing machine is used together with our fitters. We assemble the substructure, move acoustic materials such as mineral wool according to the acousticians' specifications and cover the walls and ceilings with matching acoustic fabrics from our collection.
But also ceiling coverings for lighting purposes and or acoustic measures are included in the scope of services of our seamstresses and upholsterers.
Separating curtains
Dividing large halls into smaller rooms, flexibly adapting halls according to use or number of visitors, creating separate rooms are things of daily life for cloth makers. Often, darkening and acoustics must be taken into account in these room partitions or hall divisions. Our sewing workshop manufactures the right curtains for our drive systems, which quickly bring these dividing curtains into position.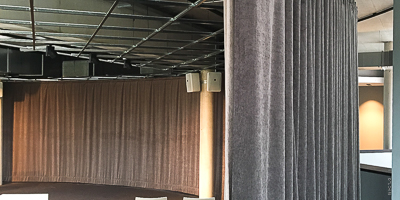 Rank Covers
In special large halls such as multi-purpose halls and arenas, but also stadiums, it sometimes happens that more seats are available, i.e. an audience is expected. But even if the event is sold out, there are always areas in the grandstand area where visitors either have no insight or have to be covered for visual reasons. The rank covers for indoor and outdoor use of the Tüchler sewing workshop solve this task.
Studio Backgrounds + Horizons

Backgrounds in television studios or film studios are often referred to as horizons or cycloramas. Even in theaters, the "curtains" circumferential at the back are called so. We manufacture all kinds of studio backgrounds for film, television, photography and theatre.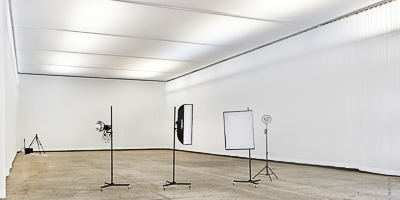 Curtains for hospitals, retirement homes, nursing homes and schools
The interplay of our efficient sewing department and our know-how on how to handle complex projects on large construction sites enables us to manufacture and install large orders of several thousand pieces of curtains and running meters of process rails for as many windows. We offer this service exclusively in Austria.
Cover-ups and revelations
you want to cover products before the presentation in order to unveil them later effectively? Here, too, our sewing studio comes into play. We manufacture custom-made cloths that are either precisely adapted to the object to be covered, perhaps even revealing one or the other detail or covers and veils that completely conceal the secret until the effective presentation.