OPEN-AIR Roofs + Sidecovers
Robust solutions, made of stage gauze and tarpaulin, for the sides and roofs of open air stages.
TÜCHLER OPEN-AIR stage gauze (made of flame-retardant PE ribbon fabric), PERFORM tarpaulin and HELIOACOUTEX membrane offer optimum protection against any weather and are flame retardant according to EN. OPEN-AIR, PERFORM; HELIOACOTEX are perfect for open-air events. By yards, ready-made standard sizes or individually welded or sewn stage roofs and stage gauze sides are available – we are happy to advise you!
TÜCHLER stage gauze is available in different colours and widths. It can be used as a stage side, a stage back wall, as visual protection, a shading system or as protection against driving rain.
Stage roofs made of PERFORM tarpaulin are a robust solution against rain, snow and sun for open-air stages. HELIOACOUTEX membrane is a special fabric. It is lightweight, extremely hard-wearing and lets 40 % of the light through, achieving a uniquely light atmosphere under your roof.
TÜCHLER solutions are durable and resistant. They offer a fast and safe solution for your open-air event. We offer various fastening options, such as edging with eyelets, which can be attached to the stage construction with elastic bands (Spannfix) or cable ties.
Contact us today for more information and an offer for your event, or buy fabric by yard or ready-made sizes here in the shop.
Stage gauze as yard goods, in standard sizes or individually made.
Flexible and robust: stage gauze for shadowing, visual protection and protection against wind and driving rain, tested as flame-retardant according to EN 13501.
Stage gauze by TÜCHLER – the perfect solution for flexible and robust side covers for open-air stages! Our flame-retardant PE ribbon fabric is available as yard goods in black or white and can also be made exactly to measure by our workshop. Our high-quality stage gauze is secured with elastic bands or cable ties and not only offers protection against driving rain, it is also ideally suited as visual, wind and sun protection.
For fast removal of stage sides in the case of strong wind, we also manufacture stage gauze with robust Velcro tape.
Whether you are a rigger, an event technician, do event or light-sound-video rentals – you are always on the safe side at open-air events with our stage products!
Reliable protection for every open-air event – tarpaulin stage roofs made of the flame-retardant material PERFORM.
Heavy-duty quality for great events: heavy-duty, robust and flame-retardant – TÜCHLER PERFORM-tarpaulin stage roofs.
Sun, rain or snow – there is always a risk of bad weather at your event. You are on the safe side with TÜCHLER PERFORM-stage roof tarpaulins. Not only are our tarpaulins extremely resistant against any environmental conditions, they are also flame-retardant. They offer perfect protection for open-air events and ensure that your stage stays dry. TÜCHLER lets you forget the weather and concentrate on what really matters – your event!
See-through roofs and side covers
We weld all sorts of special indoor and outdoor solutions with our glass clear film.
The special effect, the ultimate view, inside yet outdoors – you will always create a unique atmosphere with glass clear film and side awnings for your stage roof. Of course, our glass clear film is flame-retardant and weatherproof.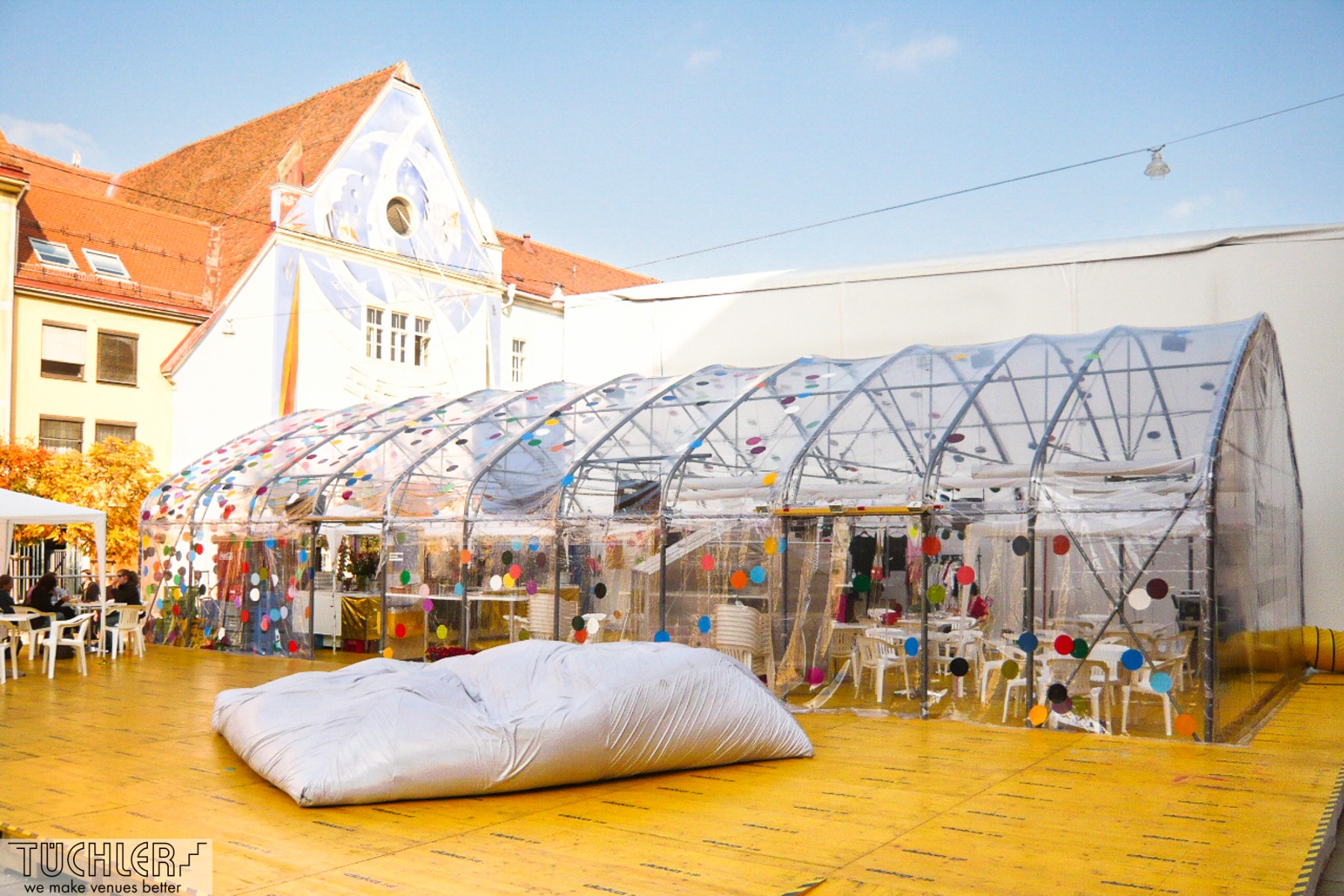 Light and translucent but nevertheless indestructible and weatherproof: HELIOACOUTEX membrane
The revolutionary material for translucent and weatherproof open-air roofs.
If you are looking for a material for your open-air events, that is translucent but also weatherproof, flame-retardant and indestructible, then TÜCHLER is your partner. Our HELIOCOUTEX membrane is a revolutionary material for all event technicians and stage builders, who value light weight, stability and functionality.