Planning and construction of event technology
Good planning and customer-oriented design of event technology are the be-all and end-all for every venue and every event. TÜCHLER's technicians develop special solutions according to the results of intensive discussions with our customers. So they can rely on the fact that perfect technology is available for their venue or event in good time.
Scenery hoists and point hoists for mobile use and for fixed installations
We plan the right lifting technology for your venue and event. For this purpose, we use platform winches such as winches, bobbin winches or tubular shaft hoists as well as chain hoists that comply with current safety standards up to SIL 3. The TÜCHLER team of technicians designs the appropriate load-bearing or substructure, coordinates the static requirements and provides plans for production and assembly.
No order is too small for us, because even a single winch is relevant in terms of safety and can also have to meet complex requirements. Of course, systems that consist of several umpteen systems, including the necessary substructure, have often been solved tasks for our team of technicians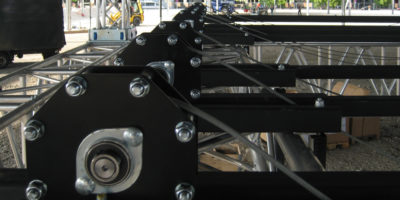 Stage portals and lighting bridges
Stage portals and lighting bridges from Tüchler are the ideal solution for the challenges in the stage and event industry. Tüchler offers a variety of standardized and tailor-made solutions for a wide variety of requirements. Tüchler portals and bridges are made of high-quality materials and are extremely durable. They provide a safe and reliable platform for stage technicians and lighting technicians.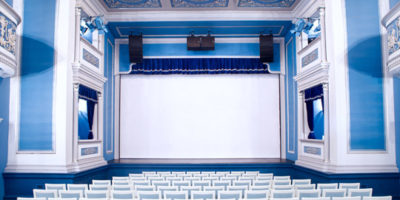 Projection Screens - Roll Screens
If you are looking for a projection screen for an event hall, you should consider roller screens. This type of projection screen offers a number of advantages over other options. First of all, they are easy to use and which can be very important for event organizers. They can also be easily set up and dismantled, which reduces the preparation time for events. In addition, roll-up screens provide a smooth and flat surface that is optimized for the projection of high-resolution images and videos.
Curtain pulling systems
Curtain pull systems are a modern and flexible solution for the design of rooms. They make it possible to separate and design different areas in one room. Curtain pull systems can be adapted to the needs of the users and are therefore an ideal solution for architects, stage designers and event organizers.
Acoustic measures
Acoustics is a very important topic that is often neglected. Most people don't think about it until they're in a hotel room that's too noisy or an office where the phone rings and the conversation of the person next door can be heard.
Compliance with soundproofing regulations is therefore an important issue, especially in rooms where many people come together in a confined space.
We offer a wide range of solutions for a wide range of applications, from soundproofing using acoustic curtains in offices and hotels to acoustics in theatres and concert halls.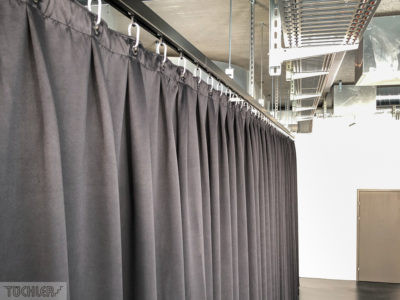 Special decorations and stage design
Tüchler is your competent partner for the realization of your special decorations and stage sets. As a competent partner for the planning, design and implementation of your ideas, we are at your side right from the start. In close cooperation with you, we develop the technical possibilities and craftsmanship to make your visions a reality.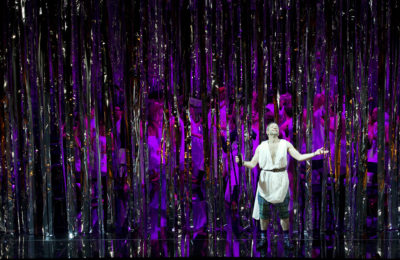 Darkening for event halls
Blackouts are an essential part of many rooms where light control is required. Whether you have an event hall, a cinema room, an operating room, or a practice room, the right darkening can dramatically change the atmosphere of a room and provide the perfect backdrop for a variety of occasions.
At Tüchler, we have a wide range of blackout products suitable for different spaces and applications. We also have a team of experts who can help you choose the right blackout solution for your space.
Stage systems for multi-purpose halls and seminar rooms
Stage systems for multi-purpose halls and seminar rooms must be versatile. You need to be able to quickly and easily adapt to the different needs of the event. Tüchler stage systems offer a wide range of stage systems that meet exactly these requirements. Our stage systems can be used for small seminar rooms as well as for large multi-purpose halls.
Sweeping systems for partition curtains, acoustic curtains, hall partition curtains, grandstand reductions, decoration and stage design
Tüchler's acoustic and decorative curtain systems are in the production of high-quality, customer-specific solutions for the acoustic and visual design of rooms. The products are used in a wide range of applications, such as conference and meeting rooms, hotels and restaurants, schools and universities, opera houses and theatres, exhibition and congress centres, and industry.
Stage roofs made of aluminium trusses
Aluminum is a lightweight, stackable and durable metal that is perfect for making stage roofs. Aluminum trusses are sturdy and can be made in various sizes and designs. They can also be provided with a variety of finishes and fittings to adapt them to your needs.
We have a variety of standard and custom-made products for our customers. We work with architects, set designers, event organizers and booth builders to find the perfect solution for your next project.