TT2 curtain rail with UNIVERSAL T electric wire rope hoist for very large and fast-moving curtains such as main curtains in multi-purpose halls, stages, theatres, etc
Very large curtains in the weight range 200kg and rail lengths of 40m are moved by the electric wire rope hoist UNIVERSAL T on the heavy curtain rail TT2 with rope running speeds of up to 100cm/s. The large load-bearing capacity of the TT2 rail profile reduces the necessary suspensions to a minimum, thus saving assembly time and costs.
The TT2 curtain hoist system configured with UNIVERSAL T electric drive enables infinitely variable rope speeds of up to 100 cm/s with very high tensile force. As a result, even very large curtains can be moved at great speed. The wire rope hoist is controlled and operated via Logo Type 1 or Logo Type 2 curtain controls. The standard version of the wire rope hoist is designed for curtain weights of around 200kg and rail lengths of around 40m. TT2 curtain hoist with UNIVERSAL T electric wire rope hoist is perfect for use for main curtains, large dividing curtains and other large curtains in theaters, multi-purpose halls and other large venues.
Technical data and the load table can be found at the bottom of this page after the products. AÜ 120923
For the assembly drawings, click on the desired configuration:
Configuration with overlap
When using this configuration, towing cars with overlappers are used. The encroacher carries the curtain about 20cm in front of the train car. In the case of curtains that only move to one side, the pulley of the rope can be covered. This is important for curtains that are supposed to close against a wall, otherwise a gap will remain between the curtain and the wall.
If a curtain with a central opening is moved, an overlap of the curtain parts is achieved even if the rail profile is inserted without overlapping.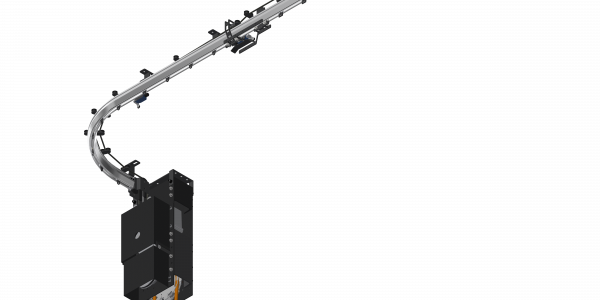 Configuration with overlapping of rail profiles
The advantage of overlapping with rail profiles lies in the unrestricted overlap path. As a result, large main curtains on stages or very high blackout curtains in particular close safely. However, this configuration is only possible when using the curtain pull to move a center-opening curtain. If you want your curtain to open only to one side and cover the pulleys of the rope at the end of the rail, please use the "Configurations with Overlap".